Dr. Nadine Hokayem
Nutri-Patch® Inventor, Naturopathic Doctor, Health Visionary.
Dr. Nadine Hokayem become fascinated by the link between nutrition and genetics, a field of science known as Epigenetics, and was determined to make it her life's work.
Upon graduating in 2003, Dr. Hokayem established a health clinic in Stamford, CT and was an acknowledged expert in Naturopathic Medicine. In addition, she achieved the rare honor of being an adjunct clinical professor at the university where she had graduated. Dr. Hokayem encountered many patients with serious intestinal ailments, such as inflammatory bowel and bariatric conditions, a problem worsened by their inability to absorb oral vitamins and supplements.
According to Dr. Hokayem: "I developed Nutri-Patch when I saw that pharmaceutical companies were making medicines available in a transdermal patch as an option to swallowing pills. And no one was making that option available for vitamins.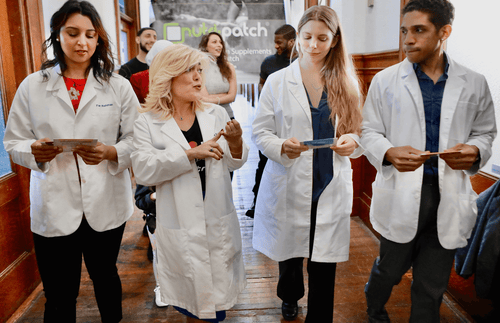 I often heard patients say they have trouble swallowing vitamins, have too many to take, or dislike the after-taste. That's when I set out to develop a product that delivers the highest quality vitamins, minerals, and antioxidants in a skin patch. 
When the student physicians heard about my efforts, a few joined me; one intern even included our work in her thesis paper. We ended up designing and formulating seven different patches with formulas to cover most people's needs."
All Nutri-Patch products contain only the highest quality ingredients and are clinically tested for safety. The patch itself employs the same nanotechnology as the transdermal patches used by major pharmaceutical companies. 
The company is run by a world-class healthcare provider with an advisory board of licensed physicians. Every product and decision the company makes is consistent with the medical ethics and physicians' oath taken by these advisors. 
What's more, Nutri-Patch® is made in America with verified manufacturers so that certificates are granted and regulated by U.S. governing bodies. That way you're assured of getting a world-class product that's safe, non-toxic, sourced, and of the highest quality. The company uses only recycled and recyclable packing materials and superior shipping service. 
Dr. Hokayem is as proud of Nutri-Patch® today as she was when she invented it and personally stands by the quality of every patch.

Statements made in connection with Nutri-Patch products have not been reviewed by the Food and Drug Administration, and the products' efficacy has not been confirmed through FDA-approved studies.